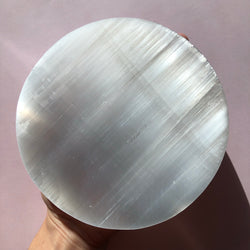 Equilibrio Gems
Selenite Charging/Cleansing Plate
✧ Cleanses and charges your crystals
✧ Purifies the energy in any room its placed in   
✧ Instills a deep sense of inner peace and calmness 
✧ Excellent for mediation and spiritual work  
✧ Place your crystals on top of the charging plate for 24 hours to cleanse and charge them 
Country of Origin: Morocco
Size: 5.75" wide, 0.5" thick
This was an instant favourite!
A great piece to use to charge your crystals or even to use as a display to show off your fav pieces! Highly recommend! 💖
Beautiful piece at a great cost
Love this juicy plate to hold my small spheres and towers.
Amazing!
These are massive! Super thick and amazing quality.
Obsessed.
This is such a beautiful piece perfect for charging your crystals and a great addition to your collection. It is larger than I expected and I plan to display it with some of my larger pieces!