9u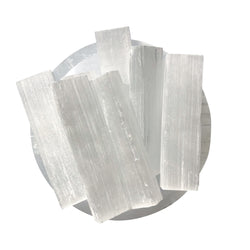 Equilibrio Gems
Selenite Logs
✧ Cleanses and charges your crystals
✧ Purifies the energy in any room its placed in   
✧ Instills a deep sense of inner peace and calmness 
✧ Excellent for mediation and spiritual work  
Country of Origin: Morocco
Size: 3.25"
Gorgeous Pieces of Selenite!
I absolutely love all my crystals from Ariana! They are all so beautiful! Always satisfed!!
Awesome crystal.
Great looking crystal. Love the rawness of it.
Cute lil selenite log
Super cute! It's smaller than I anticipated, but that's my fault for not checking how small 3.25" is. I also should've assumed it was going to be small just based on the price. Regardless, I still love it! It's the perfect sitting place for a few smaller tumbles.