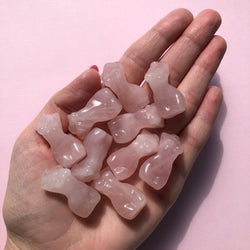 Equilibrio Gems
Rose Quartz Goddesses
Embrace your inner Goddess with these sparkly Rose Quartz goddesses! 
✧ Known as the stone of unconditional love 
✧ Promotes self-love, confidence and compassion for others
✧ Attracts love into your life
✧ Enhances positive thinking and positive energy
Country of Origin: Brazil
Size: 1.25"
Love my rose quarts goddess!
Amazing quality, as always!