9u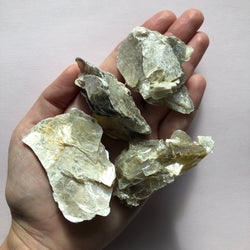 Equilibrio Gems
Raw Muscovite "Gold Mica"
✧ Helps you retain information - perfect for studying or problem solving  
✧ Has strong connections to the Angelic realm 
✧ Stimulates awareness of your higher self 
✧ Diminishes nervousness
Country of Origin: Brazil 
Small: 1.25" to 1.5"
Medium: 2" to 2.25"
WOW!!
The raw muscovite pieces were absolutely stunning! They were even more sparkly and beautiful in person! Ari, never disappoints!