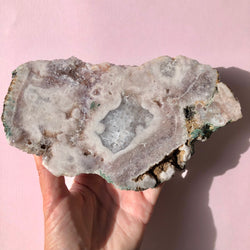 Equilibrio Gems
Pink Amethyst Slab
Beautiful Pink Amethyst slab, perfect for any room in your home!
✧ Known to instil feelings of understanding, calmness, trust, and grace

✧ Provides protection against negative energies
✧ Helps to release any past emotional trauma 
✧ Allows you to view your life experiences from a higher vibrational perspective 
Note: This item will come with a stand. 
Country of Origin: Brazil 
Size: 7.5" by 4"