9u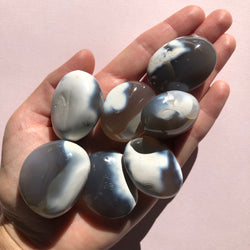 Equilibrio Gems
Orca Agate Mini Palms
✧ Resonates with the energy of the ocean - it's super calming!
✧ Cleanses and stabilizes the aura, eliminating any negativity
✧ Excellent crystal for rebalancing and harmonizing the body and mind
✧ Known to enhance mental function, improving concentration
Country of Origin: Madagascar 
Size: 1.5" to 1.75"
Orca Mini Palm
I love it. So beautiful and lovely to hold . I will be often in my rotation.