9u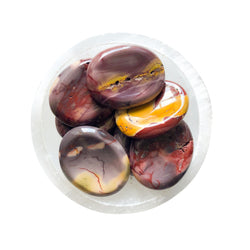 Equilibrio Gems
Mookaite Jasper Worry Stones
✧ Encourages adventure and exploration   
✧ Aids in decision-making, especially pertaining to your life choices 
✧ Slows the effect of aging and promotes long-term health 
✧ Great crystal to take with you during times of travel 
Worry stones are excellent tools for relieving stress! Worry stones also allow you to have a visual reminder of a specific intention you set out for yourself, for example, finding more gratitude in life or addressing negative thoughts. Use a worry stone when you're feeling stressed, out for a walk, while meditating, before bed, or while having a difficult conversation. 
Country of Origin: Australia 
Size: 1.5"
Just gorgeous
A beautiful, substantial-feeling stone. The pattern reminds me of a northern landscape.