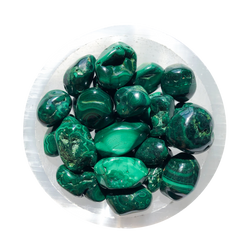 Equilibrio Gems
Malachite Tumbles
✧ Known to promote positive changes in your life 
✧ Great alternative to Moldavite 
✧ Increases determination 
✧ Protects against negative energy   
✧ Encourages risk-taking and change     
Country of Origin: South Africa
Small: 0.75"
Medium: 1" to 1.25"
Large: 1.25" to 1.5"
Screen to Hand
I love surprises and you will be with how amazing these pieces are once you get to hold them. Website or live I'm in awe of how beautiful each selected tumble has been.
My malachite tumble has such character and charm. Beautiful branding, cut and polished as if it's wrapped within itself.
So beautiful!! Arianna has the highest quality crystals. Never disappointed.
A baby free form!
I purchased a large, and it is so adorable. Like a little free form tumble. Such a great piece.