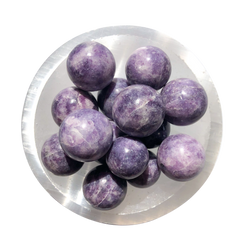 Equilibrio Gems
Lepidolite Mini Spheres
✧ Promotes peaceful and calming energies  
✧ One of the best crystals for anxiety, as it naturally contains lithium (normally found in anti-anxiety medications)  
✧ Soothes the nerves 
✧ Aids in helping with sleep issues 
Country of Origin: Brazil

Size: 0.75"
Great little sphere
Wonderful little sphere. Was a bit bigger than expecting as I ordered a flower agate sphere at the same time. The lepidolite mini sphere was much bigger. Great quality for the price. Would recommend for anyone looking to add a little sphere to your collection.
A fantastic shop and a lovely shop owner!
What can I say about EG? Everything's wonderful!! She is my go-to shop now. I felt an instant connection to her as she and I are both empaths. She also understands my need for energy, creativity, and self-esteem. Though I have chosen most of the crystals, she helped guide me to what would best work for me, and her intuitive gifts have been a blessing. Each item is of high quality and value. I've ordered 3 times now, and plan on buying again!
Jeannie Costello-Detroit, MI USA
LOVE IT
I AM IN LOVE WITH MY SPHERE AND WILL BE PURCHASING MORE SPHERES IN THE FUTURE! THANK YOU!!!