9u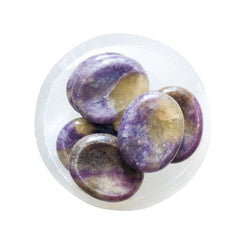 Equilibrio Gems
Lepidolite w/ Smokey Quartz Worry Stones
✧ Alleviates feelings of anxiety and tension 
✧ Increases inner endurance through tough situations and challenging times       
✧ Aids in emotional healing     
✧ Exudes empathy, positivity, joy, peace and calmness  
Worry stones are excellent tools for relieving stress! Worry stones also allow you to have a visual reminder of a specific intention you set out for yourself, for example, finding more gratitude in life or addressing negative thoughts. Use a worry stone when you're feeling stressed, out for a walk, while meditating, before bed, or while having a difficult conversation. 
Country of Origin: Madagascar 
Size: 1.5"
Lepidolite w/ Smokey Quartz Worry Stones
Perfect crystal, as always. Amazing quality. Items are always wrapped up securely and packaged so well for shipping.
I take my worry stone everywhere. I love it