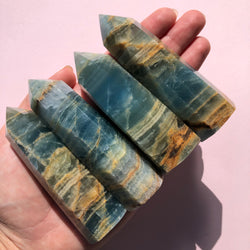 Equilibrio Gems
Lemurian Aquatine "Blue Onyx" Towers
✧ Supports and soothes the emotional body 
✧ Helps control negative emotions, such as stress, worry and fear 
✧ Allows you to have empathy for others, but not be consumed by the emotions of others
✧ Help you enter the "dream" level of consciousness, so that you can be open and receptive to your thoughts
Country of Origin: Argentina  
Small: 3.75"
Medium: 3.5" to 3.75" (wider)
Large: 3.5" (widest) to 4"
All sizes are an approximate value. Each crystal will vary slightly in colour and size. We also factor in the weight of each crystal (some might be heavier than others, but the heights are the same)! We intuitively choose each piece for you. Due to our high standards we know you will love it! 
Magic
Happier and happier about my crystals! In person they look even better! Ari is THE BEST!