9u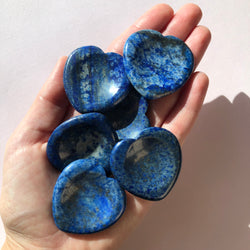 Equilibrio Gems
Lapis Lazuli Heart Worry Stones
✧ Increases focus and memory - intellectually stimulating 
✧ Encourages honest and open communication 
✧ Known to alleviates headaches and migraines 
✧ Open your Third Eye chakra by increasing intuition 
Worry stones are excellent tools for relieving stress! Worry stones also allow you to have a visual reminder of a specific intention you set out for yourself, for example, finding more gratitude in life or addressing negative thoughts. Use a worry stone when you're feeling stressed, out for a walk, while meditating, before bed, or while having a difficult conversation. 
Country of Origin: Afghanistan
Size: 1.5" 
It's perfect
As always I am beyond thrilled with my purchase. Quality always on point. The heart worry stones are perfect to keep in your pocket and hold in your hand when you need some crystal energy.