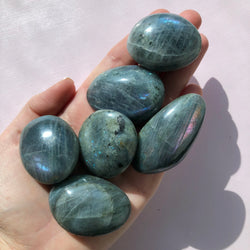 Equilibrio Gems
Labradorite Palm Stones
✧ Known as the stone of transformation and magic
✧ Awaken's your intuition 
✧ Beneficial to use if you're going through major life transitions   
✧ Protects you against those who may drain you  
All sizes are an approximate value. Each crystal will vary slightly in colour and size. We also factor in the weight of each crystal (some might be heavier than others, but the heights are the same)! We intuitively choose each piece for you, and guaranteed you will love it!
Country of Origin: Madagascar  
Small: 1.25" to 1.75"
Medium: 1.75 (wider) to 2"
Love this piece
This lab palm is one of my favorite piece. ❤️
Lab Palm Stone
The lab palm stone is a great size for your $ and has an amazing mix of coloured flash. One of my favourites.