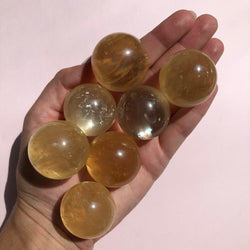 Equilibrio Gems
Honey Calcite Spheres
✧ Helps you find your personal power 
✧ Increases learning of all types and developing skills 
✧ Combats lethargy and laziness, bringing back motivation 
✧ Quickens spiritual growth by raising higher consciousnesses 
Country of Origin: Mexico 
Size: 1.25" to 1.5"
so beautiful
i love this piece with all of my heart. it's amazingly beautiful. one of my all time favourite pieces in my collection
As sweet as the real deal
This honey calcite sphere is so rich and beautiful. It really does look like honey caught in a beautiful crystal.
Lovely
It is so pretty!! Love love love it!!