9u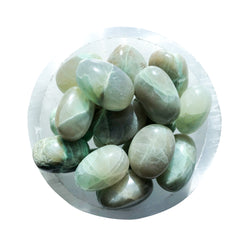 Equilibrio Gems
Garnierite "Green Moonstone" Tumbles
✧ Symbolizes feminine Goddess energy, emotional balance and love
✧ A helpful crystal that allows you to "go with the flow"  
✧ Stimulates your self-confidence and composure 
✧ Helps you connect with the grounding elements of the Earth and uplifting vibrations of the Moon
Country of Origin: Madagascar
Size: 1" to 1.25"
Wonderful Pieces
I ordered two garnierite pieces along with black moonstone, rainbow moonstone, and blue onyx. All the pieces were so lovely and I've gotten lots of compliments on them. I would definitely order again.