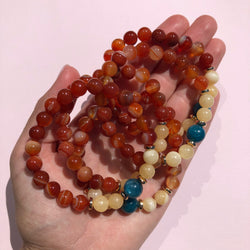 Equilibrio Gems
"Free Mindset" - Creativity Bracelets
Creative thinking is a skill which lets you consider things from a fresh perspective and a different angle! Our day-to-day lives sometimes hinders our ability to think beyond the box, so we need a little reminder and nudge to keep those creative juices flowing!
The combination of these crystals are perfect for enhancing creative thinking, coming up with new ideas, and reframe existing possibilities! 
Carnelian | Orange Calcite | Apatite | Gold Hematite 
8 mm gemstones 
Stunning!
These bracelets are even more beautiful in person! The banding on the carnelian is absolutely incredible! And the combination of the carnelian, orange calcite and apatite is just gorgeous! I am so pleased with these and super happy I got 2!