9u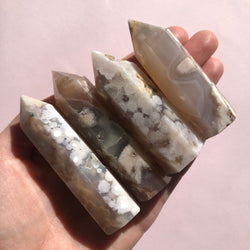 Equilibrio Gems
Flower Agate Towers
✧ Encourages personal growth   
✧ Carries a divine feminine vibration
✧ Protects against fear and self-doubt
✧ Aids in manifesting your dreams and highest potential   
Country of Origin: Madagascar 
Small: 2" to 2.25"
Medium: 2.5" to 2.75" 
Large: 2.75" (wide) to 3"
All sizes are an approximate value. Each crystal will vary slightly in colour and size. We also factor in the weight of each crystal (some might be heavier than others, but the heights are the same)! We intuitively choose each piece for you. Due to our high standards we know you will love it! 
Love!
So happy with my tower! It's the perfect size and has some druzy in it!
Stunning
I'm obsessed with my tower, I ordered a medium and it was smaller than I expected but that's totally my fault for not reading the description very well where she listed dimensions, make sure to look at that, but never the less a beautiful piece and you can tell how high quality and she shipped with care!