9u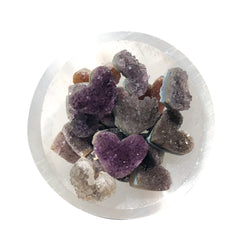 Equilibrio Gems
Druzy Amethyst Hearts
✧ Enhances spirituality, intuition, and meditation  
✧ Protects against nightmares and insomnia  
✧ Acts as a natural stress-reliever 
✧ Purifies any space that has negative vibrations 
Country of Origin: Uruguay  
Small: 1" to 1.25"
Medium: 1.5"
Large: 1.75" to 2"
What beautiful crystals 😍
I just received my crystals today and they are all absolutely gorgeous 😍 the Druzy Amethyst Heart is just stunning. My birthstone is amethyst and so glad that now I have a beautiful heart to go with my beautiful crystals ♥️ I am beyond in love with my full order of crystals. I love every single piece and can not wait to order again ♥️
Beautiful Gems
First time customer with this recent order and I am not disappointed! All the gems I ordered are so lovely.
The Amethyst Druzy Hearts are gorgeous. Great size. They really sparkle!
Perfect quality!
Absolutely stunning! I ended up with a darker piece that I am in love with. It was packaged beautifully!