9u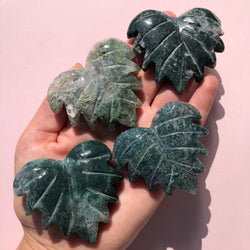 Equilibrio Gems
Tropical Moss Agate Leaves
Insanely beautiful and high quality, tropical Moss Agate leaves! 
✧ Known as the stone of new beginnings
✧ Promotes connection to the Earth and is very grounding  
✧ Attracts wealth and abundance
✧ If you own a business - it attracts new business and expansions of an existing business
Country of Origin: Brazil
Size: 2" by 2"
So unique!
I am obsessed with moss agate. This was a perfect carving to add to my collection!
Moss agate leaf
Absolutely stunning!!! Love it 😍