9u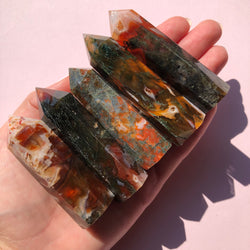 Equilibrio Gems
Carnelian/Moss Agate Towers
✧ Rare combination of the two crystals 
✧ It provides courage and promotes positive life choices
✧ Promotes connection to the Earth and is very grounding  
✧ Attracts wealth and abundance
✧ If you own a business - it attracts new business and expansions of an existing business
Country of Origin: Brazil
X-Small: 2.5"
Small: 2.75"
Medium: 2.75" (wider)
Large: 3"
X-Large: 2.5" (thick) to 3.5"
All sizes are an approximate value. Each crystal will vary slightly in colour and size. We also factor in the weight of each crystal (some might be heavier than others, but the heights are the same)! We intuitively choose each piece for you. Due to our high standards we know you will love it!