9u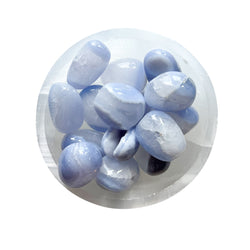 Equilibrio Gems
Blue Lace Agate Tumbles
✧ Gentle, calming crystal 
✧ Brings feelings of tranquility to alleviate anger and tension
✧ Helping in reducing stress and anxiety 
✧ Increases communication skills  
Country of Origin: South Africa
Size: 0.75" to 1"
So beautiful
I love all of Ariana's pieces!
Beautiful Tumbles
I ordered two of these and received two very unique pieces that are stunning.
Beautiful
Absolutely in love! So beautiful!
Not as Pictured
I totally understand slight variances in colour and shape, especially with gemstones, but the stone I received didn't remotely resemble the picture. I expected to receive a somewhat round/oval piece of blue lace agate and instead got a misshapen cube. Kind of disappointed because I intentionally ordered for the shape. The other stones in my order are beautiful and exactly as expected but not this one. So just be mindful, you might receive something completely different than you would expect from the pictures.
Hi Yasmin! Thank you for your purchase and your feedback. You are correct, tumbled crystals do vary in shape as they are all so unique. We apologize if your specific crystal didn't match the common shape that is seen in the sample picture. It was likely chosen for being one of the more stunning Blue Lace Agate tumbles in stock despite its unique shape!
Regards,
Equilibrio Gems