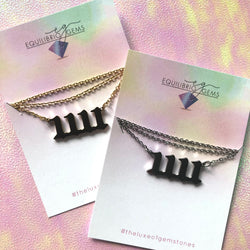 Equilibrio Gems
Angel Number Necklaces
What is your Angel number? 
To find your Angel number: 
To find your number, simply add up the number for your birth month, birth day, and birth year. Then further reduce that number with addition until you have a single digit. For example, March 4, 1998 would be 3+4+1+9+9+8 = 34. Then 3+4= 7.
1111
• Trust your gut and listen to your heart. Pay attention to guidance from the Universe. 
222
• You are in the right place. Trust and stay focused on the things you are working towards. 
333
• Your spirit guides are sending you love, support and guidance. They are working with you to help make your dreams become reality.  
444
• The Universe and your spirit guides are protecting you. It's time to be more realistic and pursue a better sense of stability. 
555
• Something new is coming your way. Your life is about to change dramatically.
777
• Wonderful things are about to happen. Major spiritual shifts are about to take place.
888
• Everything is falling into place as it's meant to be. Be ready for increased prosperity and abundance.  
999
• It's time to let go of what no longer serves you. It makes the end of a cycle and determining a higher purpose. 
18" chain, Anti-tarnish Stainless Steel
Just what I've been looking for!
I've wanted an angel number necklace or piece of jewelry for ages and I'm so glad I chose to snag one of these! Perfect for layering with other necklaces, the chain is dainty but solid and the pendant is good quality.