9u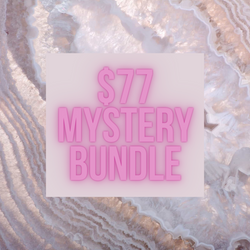 Equilibrio Gems
$77 Mystery Crystal Bundle
Explore the crystal magic behind Equilibrio Gem's $77 Mystery Crystal Bundle! 
We love creating these crystal bundles as much as you will love opening them!
Each crystal bundle will contain a list of the crystals or jewelry pieces included and is GUARANTEED to reflect the purchase value or more! 
Note: We do not take specific requests for the Mystery Bundles, but you are more than welcome to leave a note in regards to certain energies you would like to achieve, favourite colours or characteristics of crystals (ie. raw pieces, spheres, towers, etc) or statement pieces. 

...because who doesn't love a little mystery? 
Grateful
Ari thank you so much for choosing a bundle to help me with my grief and bereavement. Everything was so beautiful and comforting.
Ariana's Intuition is On Point!
I have loved everything that I've recieved from EG, but this mystery bundle has been by far my favourite! Ariana seems to know exactly what you need and when. I was feeling very mysterious and Ariana chose some gorgeous crystal pieces for me, I can't stop looking at my flourite tower, thank you again for the amazing mystery box!
$77 Mystery Bundle
I was very pleased with and excited about my mystery bundle i received! My entire order was very personalized and i feel like each piece that was chosen was meant for me :) Ariana's intuition is amazing :)))) and i will be ordering again asap!!