9u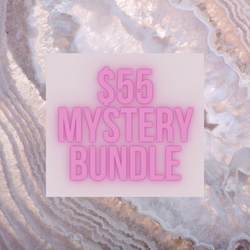 Equilibrio Gems
$55 Mystery Crystal Bundle
Explore the crystal magic behind Equilibrio Gem's $55 Mystery Crystal Bundle! 
We love creating these crystal bundles as much as you will love opening them!
Each crystal bundle will contain a list of the crystals or jewelry pieces included and is GUARANTEED to reflect the purchase value or more! 
Note: We do not take specific requests for the Mystery Bundles, but you are more than welcome to leave a note in regards to certain energies you would like to achieve, favourite colours or characteristics of crystals (ie. raw pieces, spheres, towers, etc). 

...because who doesn't love a little mystery? 
AMAZING as always!
I love Ari, and everything I have ordered from her is totally perfect! The energy of the crystals is wonderful, and I love getting mystery bundles!
The best and most beautiful crystals
EG Inc. never fails to give you incredibly high quality crystals that you are going to fall in love with. Everything was perfect!
Mystery bundle
I couldn't be more happier with the choices that were made for my bundle. Thank you so much
Better then I expect
I absolutely loved it! Such beautiful items all of them! I will most definitely order again! The mystery bundle was great! Everything that came out of the mystery bundle gave off vibes that's it was picked just for me
Absolutely stunning 😍
This was my second order. I had to get a few Labradorite pieces because it's my favourite but I had to order the mystery box also. It had the most beautiful pieces I could ever dream off. The flower Agate and pick amethyst tower with the druzy was the most beautiful thing I ever saw in my life. The moss Agate tower with druzy was absolutely stunning. They were my first ever towers 😍 the rare black flower spear made my jaw drop, it was just perfect in every single way. And with this was a medium labradorite spear 😍 and I love my labradorite and it was beautiful. I would not be able to pick out one from that mystery box as my favourite because every single piece there was absolutely gorgeous. I can not wait to order again ♥️