9u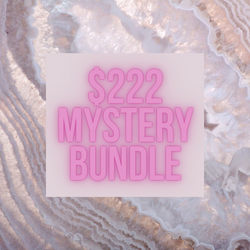 Equilibrio Gems
$222 Mystery Crystal Bundle
Explore the crystal magic behind Equilibrio Gem's $222 Mystery Crystal Bundle! 
We love creating these crystal bundles as much as you will love opening them!
Each crystal bundle will contain a list of the crystals or jewelry pieces included and is GUARANTEED to reflect the purchase value or more! 
Note: We do not take specific requests for the Mystery Bundles, but you are more than welcome to leave a note in regards to certain energies you would like to achieve, favourite colours or characteristics of crystals (ie. raw pieces, spheres, towers, etc) or statement pieces.

...because who doesn't love a little mystery? 
This is the item to get.
Not only did I get amazing crystals that I didn't have but she gave me an amazing variety and accommodated my request for a bracelet (seriously if you don't have one from her I recommend you asking for one in the mystery box. She makes them herself with amazing quality beads.) this is the second mystery box I've gotten. The first was a $111 and I got a few cool items in there too!! But this box feels like she really got to play around with the order and create a great mix for me. I got 2 clusters, towers, worry stones (she knew of my obsession with worry stones and managed to give me ones I didn't have) a bracelet and a few other fun goodies. I will continue to support this small business always!!
$222 mystery box
Loved it, so many beautiful pieces and tons of verity!
Holy cow!
Couldn't believe my eyes when I opened my mystery bundle! OMG! Absolutely gorgeous rainbow fluorite statement piece! Large moss agate heart with crystal inclusions! A lot more as well. Everything I have ever received from you has been MAGNIFICENT!!! Thank you so much! Absolutely love 💕 you!