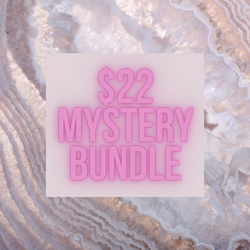 Equilibrio Gems
$22 Mystery Crystal Bundle
Explore the crystal magic behind Equilibrio Gem's $22 Mystery Crystal Bundle! 
We love creating these crystal bundles as much as you will love opening them!
Each crystal bundle will contain a list of the crystals or jewelry pieces included and is GUARANTEED to reflect the purchase value or more! 
Note: We do not take specific requests for the Mystery Bundles, but you are more than welcome to leave a note in regards to certain energies you would like to achieve, favourite colours or characteristics of crystals (ie. raw pieces, spheres, towers, etc). 

...because who doesn't love a little mystery? 
Beyond expected!!
I was thrilled to receive my mystery bundle! Valued more than what I paid for. 😍
Thanks!!!
amazing
i love every single piece i received in this bundle and they were all of amazing quality!!!
Absolutely amazing!!
The mystery crystal bundle is easily my new favourite product!! They were super generous and gave me crystals valued at $30!! To say the least I am very happy with my purchase
Absolutely Amazing!
I always love everything I buy from Equilibrio Gems! Ariana is such a compassionate, positive soul, and this is very much reflected in the mystery bundles.
Amazing, as always!!!
I love everything Ariana sends. Mystery bundles are the best. Amazing quality. Super fast shipping. Thank you so much!!!