9u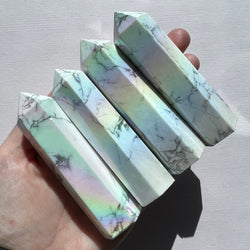 Equilibrio Gems
Aura White Howlite Towers
✧ Known as the ultimate calming crystal 
✧ Teaches patience and controls anger
✧ Enables you to enter a deep, meditative state 
✧ Beneficial for those who have trouble with insomnia, allowing for a restful sleep    
Country of Origin: Brazil 
Small: 3" to 3.25"
Medium: 3.25" (wider) to 3.5"
Large: 3.35" (widest) to 3.5" (wider)
All sizes are an approximate value. Each crystal will vary slightly in colour and size. We also factor in the weight of each crystal (some might be heavier than others, but the heights are the same)! We intuitively choose each piece for you. Due to our high standards we know you will love it! 
Great quality crystal an gems! Always get my stuff from them! Great prices,products an great people