9u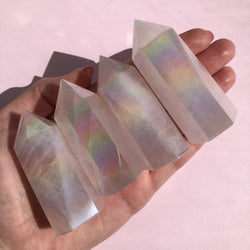 Equilibrio Gems
Aura Rose Quartz Towers
✧ Known as the stone of unconditional love 
✧ Promotes self-love, confidence and compassion for others
✧ Attracts love into your life
✧ Enhances positive thinking and positive energy  
Country of Origin: Brazil  
Small: 2.25" 
Medium: 2.25" (wider) to 2.5"
Large: 2.5" (wider) to 2.75"
All sizes are an approximate value. Each crystal will vary slightly in colour and size. We also factor in the weight of each crystal (some might be heavier than others, but the heights are the same)! We intuitively choose each piece for you. Due to our high standards we know you will love it! 
Lovely
More beautiful in person! Love it!