9u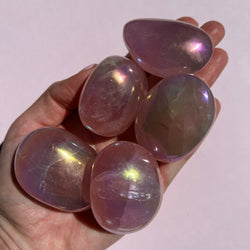 Equilibrio Gems
Aura Rose Quartz Palm Stones
✧ Helps you live in alignment with your soul's purpose   
✧ Creates heart-centred awareness by activating your Heart Chakra   
✧ Increases self-love and self-confidence  
✧ Clears out anger, jealousy, and resentment of others  
All sizes are an approximate value. Each crystal will vary slightly in colour and size. We also factor in the weight of each crystal (some might be heavier than others, but the heights are the same)! We intuitively choose each piece for you, and guaranteed you will love it!
Country of Origin: Brazil 
Small: 1.75" to 2"
Medium: 2" to 2.15"
Large: 2.25" to 2.5"