9u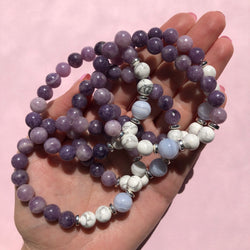 Equilibrio Gems
"Fresh Beginnings" - Anti-Anxiety Bracelets
Whether it is caused by stress, genetics, traumatic events, or environmental factors - feeling anxious makes you feel uneasy! Unfortunately if you don't get a handle on your anxiety it can seriously ruin the whole vibe on your life.
The combination of these crystals are perfect for relieving anxiety and curbing stress, anxiety, fear, worry or even panic attacks.
Lepidolite | White Howlite | Blue Lace Agate | Silver Hematite 
8 mm gemstones 
So pretty!!!
The quality is awesome! The packaging was very cute and i got many compliments on it so far!
Bracelet
Amazing as are all Ariana's bracelets ❤️❤️❤️❤️