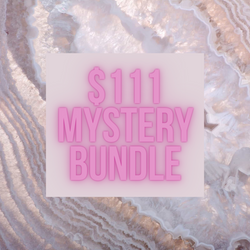 Equilibrio Gems
$111 Mystery Crystal Bundle
Explore the crystal magic behind Equilibrio Gem's $111 Mystery Crystal Bundle! 
We love creating these crystal bundles as much as you will love opening them!
Each crystal bundle will contain a list of the crystals or jewelry pieces included and is GUARANTEED to reflect the purchase value or more! 
Note: We do not take specific requests for the Mystery Bundles, but you are more than welcome to leave a note in regards to certain energies you would like to achieve, favourite colours or characteristics of crystals (ie. raw pieces, spheres, towers, etc) or statement pieces. 

...because who doesn't love a little mystery? 
Perfect mystery box!
All the items went absolutely perfectly with the prompt I left, will definitely be ordering more mystery boxes in the future!
Super Unique
I got the 100$ mystery box and am in love with all my pieces. Ari is the best at following notes and picking items that fit the brief, but you also might not have considered. I received a rare Moss agate and Pyrite combo that I have never seen before as well as a stunning golden healer tower. Golden healer is not a Crystal I usually look at, but Ari intuitively knew I needed this in my life! I asked her to also include a mystery bracelet that had rose hematite and she created the most perfect bracelet for me. Definitely recommend EQ gems and will continue to purchase from Ari. Thank you so much for all my incredible pieces!
Super Happy
I received my order and I couldn't be happier with my crystals. They are taking pride of place in small collection. Thank you so much! I will absolutely be ordering again!!
OMG!
My mystery bundle is soooo amazing! Absolutely fabulous pieces. Can't believe that I got something I have been wanting to purchase for a bit now. A slice of Malachite! Thank you so much 😊. You ROCK!
$100 Mystery Crystal Bundle
I honestly loved my pieces but was a hoping for a mixture within the $100 not all towers... Thought I would share but again hope this does not come across as negative because I send with love :)